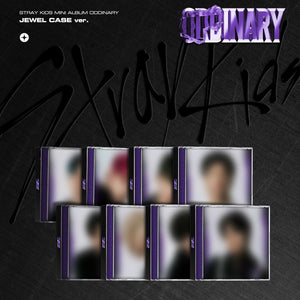 Kpop Utopia
Stray Kids [ODDINARY] Mini Album (Jewel Case)
Regular price
$15.99 USD
$0.00 USD
Unit price
per

Track List
1. 거미줄
2. MANIAC (*타이틀)
3. Charmer
4. 땡
5. Lonely St.
6. 피어난다 (방찬, 리노, 승민, 아이엔)
7. Muddy Water (창빈, 현진, 한, 필릭스)

Packages
- JEWEL CASE + Photo book 120mm x 120mm (Random1 out of 8 version)
- CD-R 1ea
- Photo card: Random1 out of 8 version
- Photo ticket: Random1 out of 2 version

[Pre-order Benefit]
- Mini folded photo book: 1ea (First press only)
*Pre-order benefit will be given according to availability.

---
Share this Product
The music is amazing, and the case and little photo book are great too.
---